Immersive Tech Week 2022 reveals first speakers, conference tracks and partners
Immersive Tech Week is gearing up for its 8th edition and will be back IRL from November 28 to December 2 in de Doelen, Rotterdam. On the morning of Thursday December 1 you can even attend a special edition of the Life Sciences and Health 010 breakfast! The team is excited to reveal the first line-up of speakers, featuring some of the brightest minds and global visionaries from the immersive technology field and beyond. For this  edition, the 5-day festival will feature 10+ tracks, showcasing a comprehensive programme on the XR universe and its impact on multiple industries and our society. The festival is also delighted to announce its first partnerships with leading companies including Meta, Pico and SenseGlove and institutes including XR4Europe, the European Commission and VR4REHAB.
10+ conference tracks on XR and beyond
Over the past 8 years the use of XR has grown immensely in many industries. Immersive Tech Week aims to unite the XR community into one place and build an attractive and exciting  programme for professionals from those industries that are impacted by the rapid developments in immersive technology now and in the near future.
Immersive Tech Week's conference tracks address compelling and urgent subjects in the field of XR, metaverse and web3 and look at the impact of immersive technologies on our society.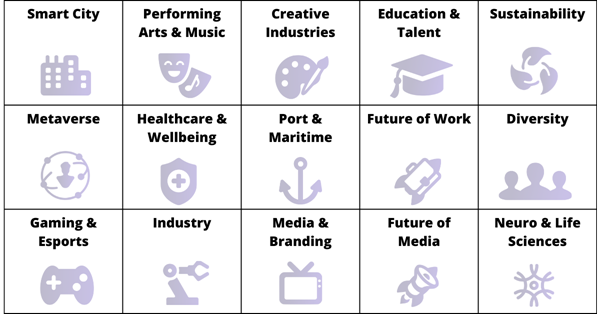 The tracks are designed to inspire experts, professionals, decision-makers and enthusiasts from various fields and industries, providing the best opportunity to gain knowledge on how immersive technologies can upgrade and improve your business.
The conference programme is created by Benjamin de Wit and Monique van Dusseldorp from the Immersive Tech Week team, three guest curators recognized as thought-leaders and innovators within the XR field: Timmy Ghiurau (Volvo), godmother of VR Nonny de la Peña (Emblematic Group) and Miriam Reiner (Technion, Institute of Technology Israel) and a team of 20+ industry professionals.
First line-up of speakers and partners announced
More than 150 international experts are set to join Immersive Tech Week 2022 to share their vision on the latest innovations in the immersive technology industry and how they will shape the world of tomorrow. This reveal showcases the festival's ambition to provide a place for professionals to learn, get inspired, and build bridges between industries:
Diederik Gommers, Professor Intensive Care Medicine at Erasmus MC
Markus Reinisch, VP Public Policy Europe, Middle East and Africa at Meta
Iara Dias, Metaverse Producer at Decentraland
Sophie Kleber, UX Lead for Future of Work at Google
Bianca Comparato, Actress and Director
Mavi Sanchez Vives, ICREA Research Professor
Albert 'Skip' Rizzo, Research Director at USC
Jay Latta, Emerging Technology Strategist and Founder of The Fusionists
Jaap Bonjer, Chair of the Department of Surgery at Amsterdam University Medical Centre
Mel Slater, Distinguished Investigator and VR Researcher at University of Barcelona
Lucas Rizzotto, Metaverse Consultant and Co-Founder of AR House
Melodie Mousset, Award Winning Artist and Co-Founder of PatchXR
Michel van der Aa, Compositor of contemporary classical music
Bas Boorsma, Chief Digital Officer of the City of Rotterdam
Joost Raessens, Professor and Chair of Media Theory at Utrecht University
Immersive Tech Week's trade show will feature front-running companies in the XR industry such as Meta and Pico, research organisations such as TNO, start-ups such as Virbe and European Horizon projects such as IV4XR, all showcasing their revolutionary products and solutions. With many more to be announced in the coming weeks, other confirmed companies that will participate in the event are SenseGlove, ICEX supporting a delegation of companies from Spain, ArborXR, Connec2, CaptainVR, PNY, VR Training Academy, Vicon, Improvive, Ordina, to name a few.
Besides having the opportunity to meet companies at the trade show, listen to various speakers, attend workshops and round tables, visitors will be able to enjoy other programme features such as:
Church of VR, showcasing the best in XR storytelling.
Citizen's Think Tank, where the future of technology is contemplated by its users and reported back to big tech and policy makers.
The Sprint, a human centred hackathon pushing the boundaries of what is doable in XR.
Playground, where everyone can experience the latest in immersive technologies for free.
Philosopher's Salon, an open forum for discussion on the fundamental questions of XR. as well as a series of workshops and roundtables hosted by some of our partners.
Bron: VRDays
Datum: 8 augustus 2022